BENEFITS FOR EVERYONE
PROTECTION
Having a receipt gives you options if something goes wrong.
FAIRNESS
Encouraging good tax practices promotes healthy competition between businesses. And that leads to better products and customer service.
SOLIDARITY
Taxes fund the social programs and public services that we all use.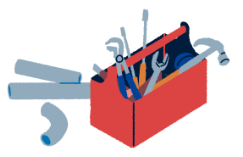 WHEN YOU SHOULD ASK FOR A RECEIPT?
Every time! Whether it's for big or small renos or even maintenance work, get a receipt.
Kitchen renos, bathroom renos, landscaping, painting, roofing, plumbing, etc.
GOOD NEWS!
The underground economy in Québec continues to wither, shrinking by more than $219,000,000 from 2017 to 2018.Note 1

1. Statistics Canada. Provincial-Territorial Underground Economy Estimates 2014 to 2018