Technical Support Provided by Installers
SRM installers authorized by Revenu Québec must provide technical support for the sales recording modules (SRMs) they sell, activate and install in restaurant establishments (bar, restaurant or catering establishments). The diagram below illustrates the technical support structure in which installers play a pivotal role. Please note that the SRM's appearance may vary.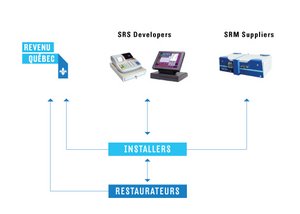 If an SRM is malfunctioning, the SRM user must call an SRM installer authorized by Revenu Québec for technical support. Depending on the problem, the installer can solve it either without any outside help or with assistance from Revenu Québec, the SRS developer or the SRM supplier.
Two French-only guides (IN-576 for models AEC 6822 C3 1010 and AEC 6822 C3 1020 and IN-576.1.6 for model AEC 6822 C3 1030) give:
the process for activating and installing an SRM
a complete list of error messages that the SRM can produce.
Note that the SRM user must also report their malfunctioning SRMs to Revenu Québec's client services.