Register for Direct Deposit or Make Changes to Direct Deposit Information
You can register for direct deposit or change your account information in any of the following ways:
If you are filing your income tax return online, you must provide the following information:
the branch number of your financial institution
the financial institution number
your account number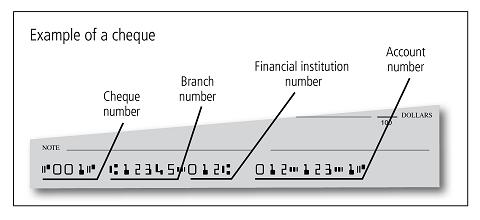 Note
If you have changed accounts and reported the change to us, it is important not to close your old account before the next payment is deposited into your new account. This way, your payments will not be interrupted.
The benefits of direct deposit
Direct deposit makes sense because it eliminates the risk of cheques being lost or stolen, and it guarantees that, even if there is a postal strike or you are sick or away from home, the following will be deposited into your account:
Note
The solidarity tax credit came into effect in July, 2011. It combines the following into a single tax credit:
the QST credit
the credit for individuals living in northern villages
the property tax refund
Cancelling direct deposit
Your direct deposit request will remain in effect until you request that we cancel it. You can request cancellation of direct deposit in writing or by telephone.